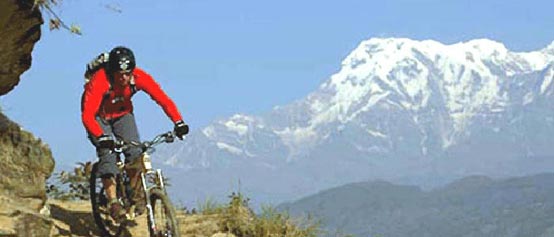 The Adventure that we will take you on begins in Kathmandu, the capital of the
Republic of Nepal. We will make a one-day stop there to check the equipment
and then continue on to Besisahar – the starting point for our cycling trip across the
Himalayas. During the high altitude acclimatization we will visit the historical,
cultural and religious monuments of the region. This time around, we shall cover some 350
km of off-road bicycle riding through the greenest part of the Himalayas. The Annapurna
Circuit is considered one of the most beautiful treks in the world. During the
trip we will be assisted by porters who will carry part of our equipment from
village to village. Accommodation will be in lodges, in double rooms,
and the food will be prepared by our hosts. The route takes us over the Thorong La
Pass (5416m) which is the highest point of our journey. We will have the honour of enjoying breathtaking views of the Himalayan giants: Annapurna (8091m) and
Dhaulagiri (8167m). A special treat for photographers will certainly be the
Machapuchare peak (6993m) which is sacred to the Sherpa and is therefore off-limits to
climbers. You will be surprised to see how green the area is even
at altitudes of over 3000m. At the end of our trip we will descend from the
mountain to the Pokhara lake where we will rest for one day before returning to
Kathmandu. Daily distances will be between 20 km and 50 km depending on the
terrain. During this time of year temperatures range from +5 to +25 degrees Celsius.
This is a tour for true nature lovers and explorers on mountain bikes. It requires some
training on the hills at home so that the ride would be as enjoyable as possible.
However, keep in mind that this is not a trip for those who are trying to prove something, who will time each stage of the trip, or will keep checking their
pulse monitor every other second. This tour is not about exploring the limits of our
physical abilities, but about getting to know a different world which will help us to
change and develop.
---
Price: 2380 USD
The price includes:
– Minibus transport during MTB Expedition in Nepal
– Equipment Transport
– Minibus Transfers airport-hotel-airport
– Accommodation at the hotel "Samsara Resort" Kathmandu 3 *, in 1/2 rooms (FB)
– Accommodation in lodges on the riding tours, 1/2 rooms (FB)
– Accommodation at Lake View Resort 3 * Pokhara, Nepal in 1/2 rooms (FB)
– Porters to carry equipment on the riding tours
– Kathmandu sightseeing city tour as scheduled in the program
– Permit for Annapurna National Park
– Services of a professional mountain bike guide on trekking tours
The price does not include:
– a visa to Nepal (USD 40), payable at the port of entry
– International medical insurance
– Entrance fees for museums and temples in Kathmandu
– Bottled water in Nepal
– Individual expenses in Kathmandu and during the trekking
For more details please contact us at info@extremesummitteam.com