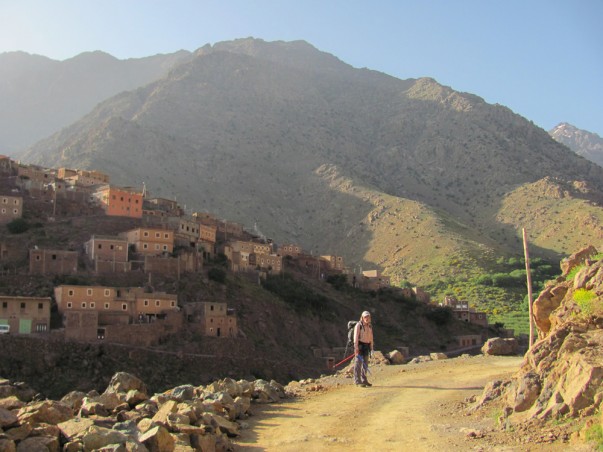 The Atlas massif is a true adventure for all lovers of hiking and untouched nature. It connects Morocco, Algeria and Tunis. In addition to ascending the highest peak of North Africa – Toubkal (4167m) – we will visit the ancient cities of Morocco and their most interesting cultural monuments. You will be surprised how many streams flow from all around, in a seemingly desert landscape. Massive waterfalls in the mountains seem especially unreal because you are in North Africa.
The village of Imlil is most fascinating, hidden among a thousand walnut trees. Starry skies above the Himalayas are a unique experience, admittedly, but in the mountains of North Africa their beauty is just as impressive. Sunrise is a memorable experience. The first rays of sun spread across the village like a hand fan, illuminating the houses and tree tops. Breakfast on the terrace with the aroma of local dishes mixed with the fresh morning air will bring peace to anyone.The locals live in simple houses with a flat roof, located in a drained swamp area. They speak mostly Berber, Arabic or French. They live in an interesting community and are very hospitable. Before you even manage to look around, you'll find yourself surprised by this unusual journey full of sun rays, snowy peaks, new experiences and fun moments.
---
Price: 880 €

The price includes:
– Minibus transfers from the airport to the hotel and from the hotel to the airport
– Train transfer from Casablanca – Marrakech – Casablanca
– Minibus transport on the route Marrakech – Imlil – Marrakesh
– Accommodation in 3* in Casablanca based on half board in 1/2 rooms
– Accommodation in 3* hotel in Marrakech based on half board in 1/2 rooms
– Accommodation in 3 * guesthouse in Imlil based on full board in 1/2 rooms
– Accommodation in 2 * mountain chalet "Toubkal" based on full board
– Professional guide during the trek
– Trekking permits (TIMS) and fee for National Park
– Expenses of organization
The price does not include:
– International Health Insurance
– Visa for Morocco
– Water, alcohol, beverages etc.
– Individual visits to museums and other cultural and historical heritages
Guide in Morocco:
Kenan Muftić, UIAA mountain guide, Extreme Summit Team
The equipment that we recommend:
1. Backpack (about 50l)
2. Sleeping bag
3. Trekking trousers (twill or the like)
4. Gore-Tex jacket (or anything waterproof)
5. Hiking shoes or deep snickers
6. Socks (thermal + cotton)
7. Cotton shirts
8. Base layer shirt and thermal long underwear pants (active underwear)
9. Woolen cap (or polar)
10. Hat (sun protection)
11. Polar pullover
12. Gloves (polar)
13. Towel and toiletries kit
14. Sunglasses
15. Lamp (ordinary)
16. Water Bottle 1L
17. Medicines and vitamins (Aspirin, Brufen, FlonivinBS, Vitamin C, etc.)
18. Toilet paper, sunscreen (factor 30 or higher) + lip cream
19. Raincoat
For more details please contact us at info@extremesummitteam.com