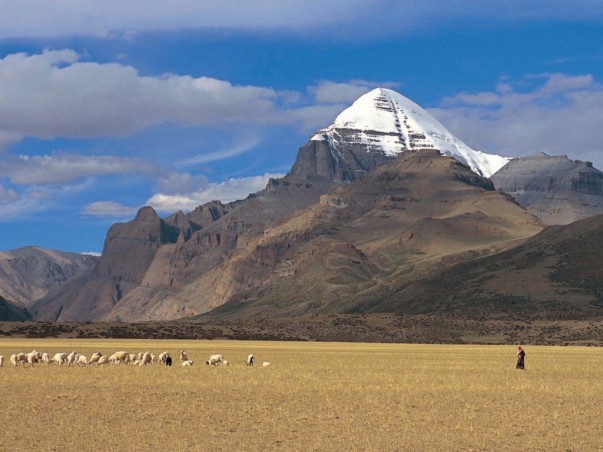 Mount Kailash (6740m) is located in the North of the Himalayas, in Tibet. This fascinating mountain resembles a meteor that got stuck in the ground. Kailash is the spiritual center of four great religions: Tibetan Buddhism, Hinduism, Jainism and the ancient Tibetan religion that came before Buddhism – Bongo. This mountain is the destination of many pilgrims coming from all over the world. Nowadays, a growing number of people believe that Kailash is the energy center of the Earth and that the entrance to the Forbidden City – Shambhala – is located near the mountain. Also near Kailash, on the Tibetan plateau, is the the impressive Lake Manasarovar. Going on a pilgrimage around Mount Kailash and swimming in Manasarovar are sacred experiences that bring redemption and wash away all sins committed throughout life.
Buddhist pilgrims circle the mountain on foot, throwing their bodies to the ground at intervals, thus measuring the entire path (52km). The simplicity of nature, the spirituality and the lack of internet and mobile phone connections will help you feel "out of this world".
---
Price: 2480 €

The price includes:
– Minibus transfers from the airport to the hotel and from the hotel to the airport
– Accommodation in 3* hotel in Kathmandu based on full board
– Accommodation in 3* hostels in Tibet based on full board
– Accommodation in tents during Kora (two people per tent) based on full board
– Visa for Tibet
– Tibet travel permit
– All entrance fees and tickets for the monasteries in Tibet
– Minibus for the transportation of equipment and passengers in Tibet
– Yaks for the transportation of the equipment, food and personal belongings
– Professional guide service during the trek
– Local guides and porters during the trek
The price does not include:
– Air tickets to/from Kathmandu
– Nepal visa when entering the country ($ 40)
– International Health Insurance
– Optional tickets to museums and temples in Kathmandu
– Taxi service in Kathmandu
– Individual costs
Guide in Himalayas:
Aleksandar Rašin
The equipment that we recommend:
1. Backpack (about 50l)
2. Sleeping bag
3. Trekking trousers (twill or the like)
4. Gore-Tex jacket (or anything waterproof)
5. Hiking shoes or deep snickers
6. Socks (thermal + cotton)
7. Cotton shirts
8. Base layer shirt and thermal long underwear pants (active underwear)
9. Woolen cap (or polar)
10. Hat (sun protection)
11. Polar pullover
12. Gloves (polar)
13. Towel and toiletries kit
14. Sunglasses
15. Head lamp
16. Water Bottle 2x1L
17. Medicines and vitamins
18. Sunscreen (factor 30 or higher) + lip cream
19. Raincoat
Note: All equipment packed in a backpack (excluding the clothes on you) is about 10 kg. A backpack and all equipment are transported to the beginning of a walking tour around Mount Kailash while yaks and our porters will carry the equipment further.
For more details please contact us at info@extremesummitteam.com