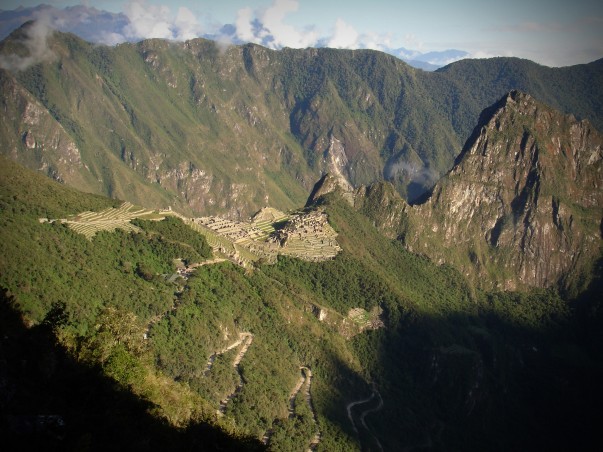 A visit to and stay with the Andean Inca community of Queros, in the Manu National Park high rainforest area. This indigenous community, actual descendants of the Incas, is primarily engaged in agriculture, herding llama, alpaca and vicugna, but has also preserved the traditions that are part of their Incan culture. What is particularly important to mention is their continuation of shamanic traditions and awareness of the connection between human beings and Nature. Queros, who are direct descendants of the Incas, have preserved and maintained their traditions and way of life to this day. To get from Cusco to Manu National Park, we follow a dirt road and arrive at the point where the high rainforest area begins, at an altitude of 4000m, that is, where the Andean area ends and is replaced by rainforest near the village of Tres Cruces (Three Crosses). The community of Queros Incas does not recognize the concept of ownership or individual ownership of land, because it is owned by the entire community. They have ethical norms and are governed by the moral laws that are determined by the Council of the Ancients, namely the Queros natives and priests (Kurak), and community members are guided by the simple moral code of "do not lie", "do not steal", "do not be lazy".
The population of the extraordinary Queros live in thatched-roofed dwellings that have only one small door with no windows, no artificial light and the beds are made of llama leather with blankets that they weave themselves, while their essential items of clothing are the poncho and uncu. By worshiping Pachamama (Mother Earth) and Inti (Father Sun) the people that are the Indio Q'ero rise to an amazing level of mysticism, to the highest of spiritual values.
---
Price: 2380 US$

The price includes:
– Flight ticket Lima – Cusco – Lima
– All airport taxes
– Minibus Transfers airport-hotel-airport
– Bus fare Cusco-Urubamba-Cusco
– Bus fare Cusco-Inca Sacred Valley
– City tour – minibus transport in Cusco
– Railway ticket Cusco-Machu Picchu-Cusco
– Bus fare Cusco-Puno (Lake of Titicaca) – Cusco
– Motor boat fare Puno -the island of Uros -island of Amantani -the island of Taquile-Puno
– Minibus fare Cusco-Queros Inca community (Manu National Park)
– Cusco – Accommodation at the hotel Gran Bolivar 3 *, 1/2 rooms (full board)
– Accommodation in the houses of the Queros community or camping, full board
– Camping and one overnight stay at the village Tres Cruces, Manu National Park,full board
– Accommodation and one overnight stay on the island of Amantani,Titicaca Lake,full board
– Tourist ticket or BTC (Boleto turístico del Cusco, which includes the visits to
Sacsayhuaman, Kenko, Pucapucara, Tambomachay, places in the Inca Sacred Valley –
Valle Sagrado)
– Professional guide for the Cusco city tour, Inca Sacred Valley, Machu Picchu and Titicaca
Lake
– Services of a professional guide on trekking tour as scheduled in the program
The price does not include:
– Flight tickets to/from Lima
– International medical insurance
– Individual expenses
– Individual visits to museums and other sights of cultural and historic significance not
included in the program
Recommended equipment:
1. Backpack (around 50l)
2. Sleeping bag
3. Trekking trousers (twill or similar material)
4. Gore-tex jacket (or similar waterproof item of clothing)
5. Hiking boots or high top trainers
6. Socks – thermal + regular
7. Cotton T-shirts
8. Undershirt and long johns (active underwear is better)
9. Woolen cap (or polar)
10. Towel and toilet items Sunglasses
11. Polar sweat shirt Gloves (polar)
12. One-litre thermos
13. Medications and vitamins (aspirin, brufen, flonivinBS, C vitamin etc.)
14. Suncream protection/lotion factor 30 or higher, Waterproof Cloak
15. lip balm
16. Hat (for sun protection) Lamp (ordinary, as light as possible) .
Note: Luggage should be packed in a transport bag which will be transported by 4×4
vehicles or bus
A part of luggage may be left at the hotel in Cusco. You should have a small backpack up to 50 litre volume with you for tours and walk in the countryside.
For more details please contact us at info@extremesummitteam.com