Ama Dablam is one of the most stunning peaks in the Himalayas and one of the most impressive mountains in the world. Situated in the heart of Everest's Khumbu region, it lies directly above the Thyangboche Monastery on the well-worn path to Everest Base Camp and is admired by thousands of trekkers and climbers every year. This expedition offers a superb, technical climbing experience in a magnificent setting, with numerous cultural and scenic diversions. Our route will take us along the original line of ascent, the South West Ridge.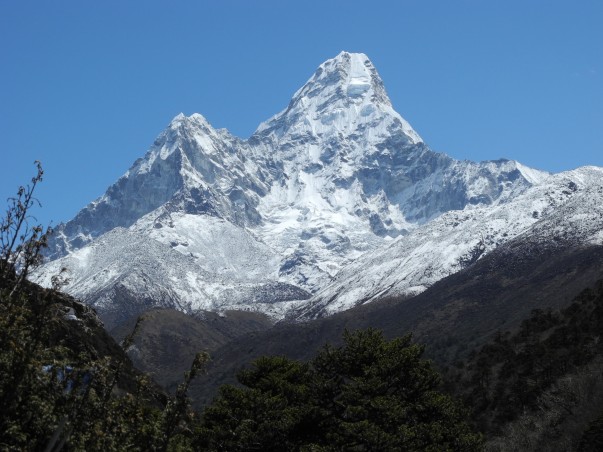 It provides a fine and varied climb, sustaining a reasonable level of difficulty, with good camp platforms at strategic points. The climb provides interesting rock, snow and ice sections, and although it is of a fairly technical nature, in normal conditions it is never very difficult. Apart from one short section, the climb is very safe, overall. The route description is included in the detailed itinerary.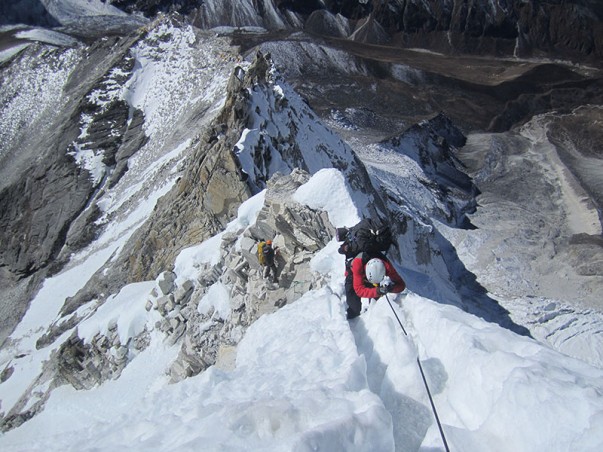 The expedition will be professionally led by a team of competent mountaineers who have enough experience to climb one of the world's most sought-after mountains, without undue risk. This approach ensures that team members are suitably experienced, reasonably self-sufficient and capable and willing to move between camps, unsupervised. You will still have a high level of support, starting with strong, confident leadership; this will maximize your chances of success without undermining the quality of your accomplishments. If you have the necessary experience and wish to fully participate as a team member in an expertly led expedition to one of the world's most impressive mountains, this could be the trip for you!
---
Price : 4580 €
The cost includes:
– Accommodation in hotel 4* (3 nights / BB)
– Flight ticket KTM – Lukla – KTM
– All transfers to/from Kathmandu airport
– Lodge accommodation in the Himalayas (Full board, double room)
– Accommodation in tents, base camp (Full board, one member – one tent)
– Expedition equipment in BC and high camps
– During climb: food, gas, stove, etc. above Base Camp, with complete Sherpa service
– Equipment transportation Lukla – BC Ama Dablam – Lukla
– Taxes for Sagarmatha National Park
– Climbing permit for Ama Dablam
– Support and assistance from climbing Sherpa's
– Climbing Allowance for Climbing Sherpas
– Walkie Talkie or Satellite Phone permit
– Support and professional western UIAA guide during the ascent
The cost does not include:
– Flights to/from Kathmandu
– Nepali visa
– Personal insurance
– Water and other beverages during the trek through the Himalayas
– Taxi services in Kathmandu
– Entrance fees for temples and museums
Expedition Leader: Petar Pecanac , Extreme Summit Team
Tailor-made option
We can organize this expedition on a 'tailor-made' private basis for groups of friends, families, clubs, charities or any other group. Depending on your mountaineering experience, you may want a Extreme Summit Team leader or go 'self-led' with the assistance of local guides. The cost of going private can be surprisingly reasonable, particularly if you take the self-led option. Please contact us to discuss the itinerary and your preferred dates. We will then send you a quote, with no obligation
Necessary personal equipment:
1. Backpack (approximately 50 l) for the ascent
2. Sleeping bag
3. Trekking trousers (twill or the like)
4. Gore-Tex jacket and Gore-Tex trousers
5. Transport bag for equipment
6. Hiking shoes (trekking to BC)
7. Climbing boots (BC to the top)
8. Socks (thermal + cotton)
9. T-shirts (cotton)
10. Base layer shirt and thermal long underwear pants
11. Woolen cap (or polar)
12. Hat (sun protection)
13. Polar jacket
14. Gloves (polar + Gore-Tex or down gloves)
15. Towel and toiletries kit
16. Sunglasses + sunscreen (SPF 50)
17. Crampons
18. Trekking poles
19. Ice axe
20. A harness, 3 "prusiks" (6mm, 3m), 3 lock carabiners, and a rope ascender (jumar)
21. Head lamp with spare batteries
22. Water bottle x 2, thermos x 2
23. Climbing helmet
24. Down jacket
Additional information : info@extremesummitteam.com