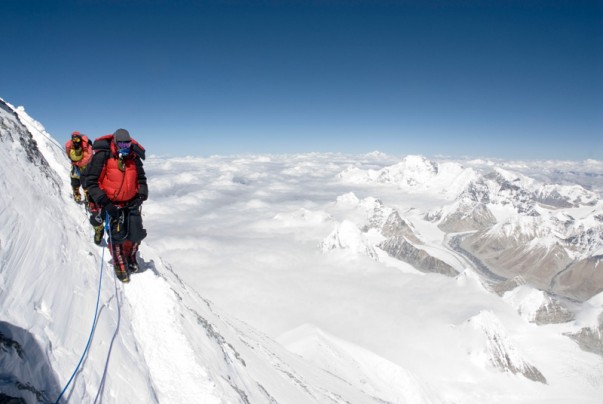 The highest peak on Earth can be found in the Himalayan mountain range, in the north of the Indian subcontinent. It is located on the border between Nepal, the only Hindu kingdom in the world, and Buddhist Tibet, which was incorporated as an autonomous region into the People's Republic of China in 1950. This indisputable fact was not always known. Between 1745 and 1818, the highest peak in the world was considered to be Chimborazo (6287m), a volcano in the Andes, located in Ecuador. In the mid-19th century, the British conducted measurements in India and the Himalayas, and between 1818 and 1848 Dhaulagiri in Nepal was considered the highest mountain on Earth. From 1848 to 1852 it was believed that Kangchenjunga in Sikkim was the highest.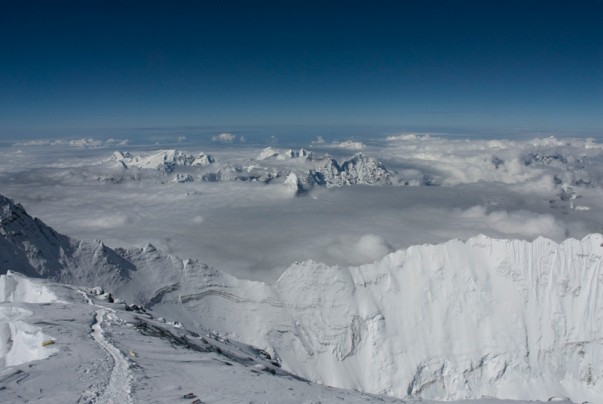 Considering how difficult it was to approach the Himalayan peaks, topographers working for the Indian mapping agency "Survey of India" identified one especially high peak in the Himalayas by conducting observations from the Indian jungle at lower altitudes. This peak was marked as Peak XV. Finally, in 1852, calculations based on land surveys confirmed that Peak XV was higher than any other peak known at the time. The measured altitude was 8840m. That is how the world's highest peak was discovered. Nobody knew the name of the peak. It was suggested that it be named Deodungha or Ghaurisankar. In the end, it was decided that it should be named "Mount Everest", after Sir George Everest, Surveyor General of India from 1842 to 1843. Whatever its name – be it Peak XV,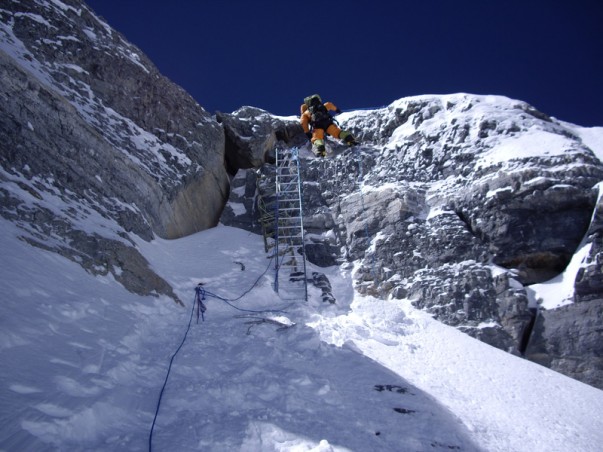 Chomolungma, Sagarmatha or Everest – the fact remains that this 8850m high mountain is the tallest in the world and it represents a border between Tibet to the north and Nepal to the south. It is located 150km northeast of Kathmandu, the capital of Nepal, and 450km southwest of Lhasa, the capital of formerly Lamaist Tibet. The border runs along the western ridge, across the peak, and then along the southeast ridge. The mountain consists of the west ridge, southeast ridge, and the two branches of the north ridge. Between them are the north face, east face and southwest face. Largely thanks to Mallory and like-minded people, Mount Everest became a testing ground for adventurous spirits. This form of testing continues to this day. The British sent out their first team of mountaineers on a reconnaissance expedition in 1921. Due to the mountain's remote location and its ruthless peaks, it took 32 years and 8 different expedition attempts before Sir Edmund Hillary and Tenzing Norgay struggled down the mountain, proclaiming their success. "We knocked the bastard off!" Hillary shouted with elation. Later, and somewhat surprisingly considering his previous statement, Hillary said that Everest does not recognize conquerors, and that those who have managed to reach the summit have done so only thanks to the will of the mountain.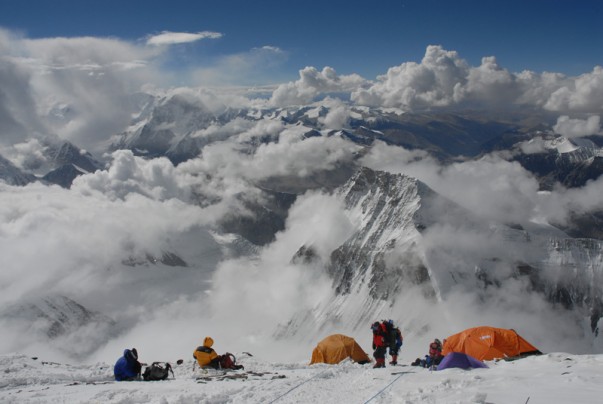 ---
Mt. Everest Expedition 2020
Country: Tibet, The People's Republic of China
Mountain: Everest 8848m
Category: High degree
Requirements/Qualifications: For experienced climbers
Dates: 30th March – 2nd June 2020
Duration: 62 days / 61 nights
Success rate on Mt. Everest: Higher than 80% !
Price: 42.500 €
The full fee amount is due 60 days before the start of the expedition.
In case of cancellation at least 30 days before the expedition – 50% refund.
Cancellation less than 30 days in advance – no refund
For the 2020 season we are offering a full service expedition
Included in the price are:
– Experienced expedition leader (Everest Summiter) from "Extreme Summit Team"
– High-altitude sherpa – 1 for 1 member
– Mountain Guide – Everest summiter
– Oxygen cylinders "POISK" – 6 items / one climber (Start with oxigen from North Col)
– Doctor in BC-ABC
– Stationary radios in all camps and walkie-talkies – 1 for 2 member
– 3 fully equipped Base Camps 5100m, 5800m and 6400m
– Top Out oxygen masks and reducer (only for use)
– Fully equipped High Camps 7100m, 7800m and 8300m
(including tents, gas-stoves,pans, gas-cylinders, dried food, oxygen bottles, delivered to High Camps by expedition Sherpa)
– access to e-mail, TV set, DVD in BC 5100m
All our high-altitude Sherpa have Everest experience.
They bring all shared equipment and oxygen cylinders in high-altitude camps and accompany team all the way from ABC to the summit.
Our expedition starts in Katmandu: we are all meeting in the "Samsara Resort" hotel March 30. We will have transfers from the airport to the hotel for those arriving with later flights.
If you are interested, contact us for details on estadventure@gmail.com
Land cost includes:
Tibet visa
Climbing Permit
Necessary transfers in Katmandu
Bus and truck for the loads to Zangmu and back
Jeeps and lorry for the participants of the team from Zangmu to BC and back to Zangmu
1 Yak per expedition member BC-ABC and 1 Yak per member ABC-BC
Hotel in Katmandu "Samsara Resort" for 4 nights in double rooms (BB)
All hotels in Tibet
Food in Tibet
Food in the the BC, IBC, ABC – 3 times a day and for the ascent (high camps food)
Tents for the participants and maintenance staff in the BC, IBC, ABC and the high camps
Tent-kitchen in the BC, IBC, ABC, tables and chairs
Fuel for preparing food in the BC, IBC, ABC
Kitchen equipment and dishes in the BC, IBC, ABC
Electricity generators for BC and solar panels for ABC
First-aid set
Chinese liaison officer
Nepalese cooks
Tibetan kitchen-boys
Gas-cylinders (250gr.) only for high camps
Tents for the high-altitude camps
Ropes
Ice screws
Walkie-Talkie
1 Team T-shirts
Land cost does not include:
Extra nights in Hotel in Katmandu
Flight to/from Katmandu
Personal equipment for the ascent
Lunches and dinners in Katmandu
Tips for the maintenance staff & Climbing Sherpas
Personal travel, medical and rescue insurance.
Extra personal high-altitude Sherpa
Entry visa into Nepal.Re-entry visa for Nepal
Tailor-made option
We can organise this expedition on a 'tailor-made' private basis for groups of friends, families, clubs, charities or any other group. Depending on your mountaineering experience, you may want a Extreme Summit Team leader or go 'self-led' with the assistance of local guides. The cost of going private can be surprisingly reasonable, particularly if you take the self-led option. Please contact us to discuss the itinerary and your preferred dates. We will then send you a quote, with no obligation
Necessary additions
Climbing on Everest is dangerous at any time. Noon can give you 100% guarantee of your safety at altitude above 7000m and especially above 8000m. So we include in price personal high altitude Sherpa-guide for summit attempt. It is useful, especially if you have no previous experience of climbing above 8000m. This will several times multiply your safety and chances on successful summit.
Necessary documents
Tibet visa – we make group Tibet visa
Climbing Permit- special climbing permit for the ascent in Tibet
4 passport photos – for visas
Yaks carry loads from BC to ABC
1 Yak (40 kg) per expedition member BC-ABC and 1 Yak (40 kg) per member ABC-BC.
Yaks carry your personal equipment.
High altitude Sherpa carry all shared expedition equipment above ABC. They establish the high camps and take all tents, foam pads, dehydrated food, gas cylinders, gas stoves, kitchen utensils, snow shovels and ropes there.
Transportation of personal oxygen cylinders .Is carried out by our expedition Sherpas . They bring one 4-liters "Poisk" cylinder to 7000m, bring one 4-liters "Poisk" cylinder to 7700m and three 4-liters "Poisk" cylinders to 8300m per climber.
Accommodation
Hotel "Shanker" BB in Katmandu for 4 nights in double rooms
All hotels in Tibet –in Zangmu, Nyalam and Old Tingri in 2-4 bed room
In BC – 1 tent for 1 member
In ABC – 1 tent for 2 members
High camps – 1 tent for 2 members
Meals
Breakfast in Katmandu (lunch and dinner are not included)
Food in Tibet – 3 times a day in restaurants
Food in the BC, IBC, ABC – 3 times a day. The food is prepared by Nepalese cooks and Tibetan Kitchen-boys on gas stoves in special kitchen tents. You can also get here any amount of hot water for washing or boiled water for drinking. We eat in spacious dining tents equipped with tables and chairs.
Food for the ascent – We provide special dehydrated western mountain food, which you have to prepare yourself in high camps (above ABC) on gas stoves. Water should be melted from snow.
Staff
Experienced expedition leader (Everest Summiter) from "Extreme Summit Team"
Chinese liaison officer
Cooks from Nepal- 1 for BC and 1 for ABC
Kitchen boy from Tibet – 1 for BC and 1 for ABC
High-altitude Sherpa – 1 for 1 member
Mountain guide
Doctor in BC
All our high-altitude Sherpa have Everest experience.They bring all shared equipment and oxygen cylinders in high-altitude camps and accompany team all the way form ABC to the summit
Medicine and medicine insurance
We will have Doctor in BC.We provide a big expedition first aid kit with all the necessary medicine, but we also recommend that you bring your own specific medicine.
NOTE:
Each member must have "Climbing" medicine insurance for whole expedition period.
Weather
In Everest region the weather is very changeable. Every day we get new weather forecast by Internet and choose the best period for acclimatization and ascent.
Extra expenses
Extra nights in Hotel "Samsara Resort" in Katmandu – $30 per person
Personal extra jeep from BC to Zangmu – $600
Personal extra jeep from Zangmu to Katmandu – $300
Descending from BC to Toshi Dzong (4200m) for rest – (is paid on the spot)
Extra mask and regulator (1 sets) – $350
Extra oxygen 4L bottles "Poisk" (1 items) – $400
Delivery extra oxygen 4L bottles to high camps by Sherpa -$100 per 1 items
Extra yak for personal equipment (40 kg) from BC to ABC or from ABC to BC – $100
Personal high-altitude Sherpa. Personal guide
If you have not enough experience and you want to increase the chances for the summit and safe descent you need help of extra one personal Sherpa or even personal guide, who will work with you during all expedition from BC to summit:
The price for extra one personal high-altitude Sherpa for carrying your personal stuff from BC to high-altitude camps, accompany you from BC to high-altitude camps during acclimatization period, accompany you all the way from BC to the summit is 5000 USD (include oxygen equipment,personal equipment,all the bonuses and salary for the expedition)
Personal western guide (Everest summiter) – 40 000 USD
(include oxygen equipment,personal equipment, salary for the expedition, aircraft ticket)
Approximate list of personal equipment you will need for the expedition:
Equipment for BC and ABC:
Duffle bag
Sleeping bag – 2 items
Term-a-rest – 2 items
Personal items for washing
Technical Equipment for the ascent:
Crampons (e.g. Grivel G12)
Rucksack 70-80 liters
Rucksack 35-40 liters
Harness
Prussiks
Karabiners with screw gate lockers – 3 items
Jumar (ascender)
Telescope ski poles
Thermos
Rappel device
Ice Axe
Head lamp
Photo camera
Video camera and assessories
Personal crockery for high camps
Equipment for body and feet:
Trekking shoes
Boots of "Everest" Millet type
Down jacket + down trousers (or down overalls)
Gore-tex jacket with wide hood
Gore-tex trousers (better semi-overalls)
Windblock jacket
Windblock trousers
Jacket "Polartec – 100" – 2 items
Warm underwear – 2 sets
Personal underwear
Polartec gloves – 2 pairs
Thinsulate gloves
Thinsulate mittens – 2 pairs
Warm termo socks – 4-5 pairs
Balaclava
Warm hat
Windblock face mask
UV glasses
Ski goggles (preferably)
Gaiters
The price includes some personal equipment:
– oxygen equipment (1mask + 1 reducer + 6 Oxygen cylinders "Poisk" 4L)
– 1 Team T-shirt
Payment procedure:
Deposit: a non-refundable 2 000 US$ should be paid by transfer to our bank account
before December 15, 2019.Final Payment: total payment for program and any payments for additionally requested services should be made before February 10, 2020.
NOTE:
IF MEMBER FAILS TO DO THE ABOVE MENTIONED PAYMENTS IN DUE TIME,
HIS/HER APPLICATION IS CANCELLED AND ALL PREVIOUS PAYMENTS ARE
NON-REFUNDABLE!!!
ALL YOUR PAYMENTS FOR ANY SERVICE AND EQUIPMENT IS NON-REFUNDABLE,
AFTER FEBRUARY 28, 2020 !
THERE WILL BE NO REFUND IF A MEMBER LEAVES A TRIP FOR ANY REASON
EITHER VOLUNTARILY OR INVOLUNTARILY !
NO REFUND WILL BE MADE FOR ANY SERVICES OR PRODUCTS NOT UTILIZED
INCLUDING BUT NOT LIMITED TO OXYGEN!
Additional information : info@extremesummitteam.com