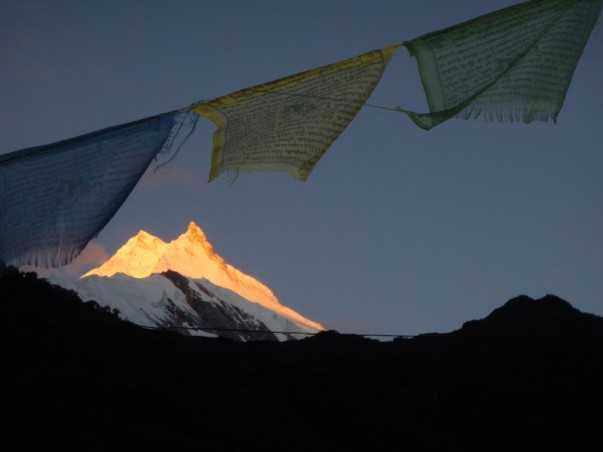 Mount Manaslu (8163m) was first climbed by a Japanese expedition in 1956. The name of the mountain comes from the Sanskrit word "manasa" meaning "intellect" or "soul". The name of the sacred lake Manasarovar near Mount Kailash in Tibet also has the same root. Just as the British lay claim to Mount Everest, so the Japanese, who were the first to conquer Manaslu, consider this peak as their own. During a trek back in 1950 H. W. Tillman and Jimmy Roberts were the first to photograph Manaslu.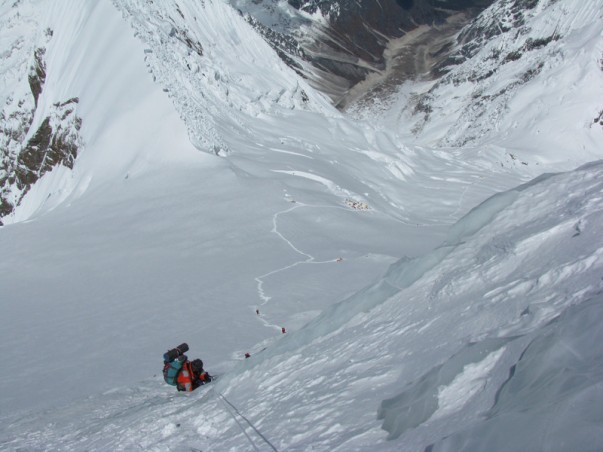 However, the first serious exploration was conducted by the Japanese during an expedition in 1952. The Japanese made their first serious attempt to summit the mountain in 1953, approaching from the Buri Gandaki valley.
In 1954, villagers from Samagaon prevented the second Japanese team from attempting an ascent, accusing the previous team of causing an avalanche that destroyed a monastery. Instead of Manaslu, the expedition headed for Ganesh Himalayan. Despite a substantial donation for the reconstruction of the monastery, subsequent Japanese expeditions – including the one in 1956 that reached the summit – were met with hostility and distrust. The next successful ascent by the Japanese was in 1971. An attempt was made the same year by a South Korean team. In 1972 an attempt by a Tyrolean expedition ended tragically with the death of two team members. At the same time, a South Korean expedition was attempting the northeast face, but an avalanche killed four Koreans, one Japanese and ten Sherpas.
Manaslu is a beautiful and very popular mountain that climbers approach with a lot of enthusiasm and curiosity. Extreme Summit Team organized an expedition to Manaslu (8163m). Out of the 12 team members that started out from the base camp, 10 made it to the summit!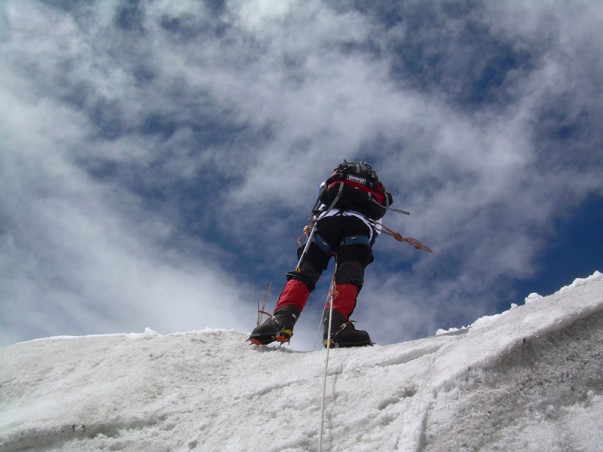 ---
MANASLU (8163m) CLIMBING EXPEDITION
Country: Republic of Nepal
Mountain: Manaslu 8163m
Category: High degree
Requirements/Qualification: For experienced climbers
Dates and Duration: August 27 – October 06.2019 , Days 42 / Nights 41
Success rate on Manaslu: More than 80% !
Price: 11.500 €
Full balance is due 60 days before the expedition start.
Cancellation 30 days before the expedition – 50% refund.
Less than 30 days – no refund
In 2019 season we offer full service expedition
We include in price:
– Experienced expedition leader
– High-altitude sherpa – 1 for 1 member
– Mountain Guide – Everest & Manaslu summiter
– Oxygen cylinders "POISK" – 3 items for one climber (Start with oxigen from 7000m)
– Doctor in BC
– Stationary radios in all camps and walkie-talkies – 1 for 2 member
– Fully equipped Base Camp at 4850m
– TopOut oxygen masks and reducer (only for use)
– Fully equipped High Camps 5800m, 6400m, 6900m and 7450m – including tents,
gas-stoves, pans, gas-cylinders, dried food, oxygen bottles, delivered to High Camps by expedition Sherpas
All our high-altitude Sherpas have Everest&Manaslu experience. They bring all shared equipment and oxygen cylinders in high-altitude camps and accompany team all the way from BC to the summit.
Our expedition starts in Katmandu: we are all meeting in the "Samsara resort" hotel August 27. We will have transfers from the airport to the hotel for those arriving with later flights.
If you are interested, contact us for details. estadventure@gmail.com
Land cost includes:
Climbing Permit
Necessary transfers in Katmandu
Bus for transfer and truck for the loads to Besisahar and back
Accomodation in lodges&food from Besisahar to BC and back.
All neccesary porters for personal equipments from Besisahar to BC and back
Hotel in Katmandu "Samsara Resort" for 4 nights in double rooms (BB)
Food in the the BC – 3 times a day and for the ascent (high camps food)
Tents for the participants and maintenance staff in the BC and the high camps
Tent-kitchen in the BC, tables and chairs
Fuel for preparing food in the BC
Kitchen equipment and dishes in the BC
Electricity generators for BC and solar panels
First-aid set
Nepaliese liaison officer
Nepalese cooks
Nepali kitchen-boys
Gas-cylinders (250gr.) only for high camps
Tents for the high-altitude camps
Ropes
Ice screws
Walkie-Talkie
1 Team T-shirts
Land cost does not include:
Extra nights in Hotel in Katmandu
Flight to/from Katmandu
Personal equipment for the ascent
Lunches and dinners in Katmandu
Tips for the maintenance staff & Climbing Sherpa
Personal travel, medical and rescue insurance.
Extra personal high-altitude Sherpa
Entry visa into Nepal.Re-entry visa for Nepal.
Tailor-made option
We can organise this expedition on a 'tailor-made' private basis for groups of friends, families, clubs, charities or any other group. Depending on your mountaineering experience, you may want a Extreme Summit Team leader or go 'self-led' with the assistance of local guides. The cost of going private can be surprisingly reasonable, particularly if you take the self-led option. Please contact us to discuss the itinerary and your preferred dates. We will then send you a quote, with no obligation
Necessary additions
Climbing on Manaslu is dangerous at any time. Noon can give you 100% guarantee of your safety at altitude above 7000m and especially above 8000m. So we include in price personal high altitude Sherpa-guide for summit attempt. It is useful, especially if you have no previous experience of climbing above 8000m. This will several times multiply your safety and chances on successful summit.
High altitude Sherpa carry all shared expedition equipment above BC. They establish the high camps and take all tents, foam pads, dehydrated food, gas cylinders, gas stoves, snow shovels and ropes there.Transportation of personal oxygen cylinders .Is carried out by our expedition Sherpa. They will bring one 4-liters "Poisk" cylinder to 6900m and bring two 4-liters "Poisk" cylinder to 7450m.
Accommodation
Hotel "Shanker" BB in Katmandu for 4 nights in double rooms
(2 nights before and 2 nights after)
All lodges in Nepal – Besisahar to Sama Gown and back
In BC – 1 tent for 1 member
High camps – 1 tent for 2 members
Meals
Breakfast in Katmandu (lunch and dinner are not included)
Food during trek period – 3 times a day
Food in the BC – 3 times a day. The food is prepared by Nepalese cooks and Kitchen-boys on gas stoves in special kitchen tents. You can also get here any amount of hot water for washing or boiled water for drinking. We eat in spacious dining tents equipped with tables and chairs.
Food for the ascent – We provide special dehydrated western mountain food, which you have to prepare yourself in high camps (above BC) on gas stoves. Water should be melted from snow.
Staff
Experienced expedition leader
Nepalese liaison officer
Cook from Nepal
Kitchen boys
High-altitude Sherpa – 1 for 1 member
Mountain guide
Doctor in BC
Medicine and medicine insurance
We will have Doctor in BC.We provide a big expedition first aid kit with all the necessary medicine, but we also recommend that you bring your own specific medicine.
NOTE:
Each member must have "Climbing" medicine insurance for whole expedition period.
Weather
In Manaslu region the weather is very changeable.
Every day we get new weather forecast by Internet and choose the best period for acclimatization and ascent.
Extra expenses:
Extra nights in Katmandu – $30 per person
Personal extra jeep from Kathmandu to Besisahar and back – $200
Helicopter from Sama Gown to Kathmandu (per person+30kg load) – $600
Extra mask and regulator (1 sets) – $350
Extra oxygen 4L bottles "Poisk" (1 items) – $350
Delivery extra oxygen 4L bottles to high camps by Sherpas -$100 per 1 items
Personal high-altitude Sherpa. Personal guide
If you have not enough experience and you want to increase the chances for the summit and safe descent you need help of extra one personal Sherpa or even personal guide, who will work with you during all expedition from BC to summit:
The price for extra one personal high-altitude Sherpa for carrying your personal stuff from BC to high-altitude camps, accompany you from BC to high-altitude camps during acclimatization period, accompany you all the way from BC to the summit is 3000 US$ (include oxygen equipment,personal equipment,all the bonuses and salary for the expedition)Personal western guide (Everest&Manaslu summiter) – 15 000 US$ (include oxygen equipment,personal equipment, salary for the expedition)
Approximate list of personal equipment you will need for the expedition:
Equipment for BC and ABC:
Duffle bag
Sleeping bag – 2 items
Term-a-rest – 2 items
Personal items for washing
Technical Equipment for the ascent:
Crampons (e.g. Grivel G12)
Rucksack 70-80 liters
Rucksack 35-40 liters
Harness
Prussiks
Karabiners with screw gate lockers – 3 items
Jumar (ascender)
Telescope ski poles
Thermos
Rappel device
Ice Axe
Head lamp
Photo camera
Video camera and accessories
Personal crockery for high camps
Equipment for body and feet:
Trekking shoes
Boots of "Everest" Millet type
Down jacket + down trousers (or down overalls)
Gore-tex jacket with wide hood
Gore-tex trousers (better semi-overalls)
Jacket "Polartec" – 100″ – 2 items
Warm underwear – 2 sets
Personal underwear
Polartec gloves – 2 pairs
Thinsulate gloves
Thinsulate mittens – 2 pairs
Warm termo socks – 4-5 pairs
Balaclava
Warm hat
Windblock face mask
UV glasses
Ski goggles (preferably)
Gaiters
The price includes some personal equipment:
– oxygen equipment (1mask + 1 reducer + 3 Oxygen cylinders "Poisk" 4L)
– 1 Team T-shirt
Payment procedure:
Deposit: a non-refundable 2 000 US$ should be paid by transfer to our bank account before May 30, 2019.Final Payment: total payment for program and any payments for additionally requested services should be made before July 12, 2019
NOTE:
IF MEMBER FAILS TO DO THE ABOVE MENTIONED PAYMENTS IN DUE TIME,HIS/HER APPLICATION IS CANCELLED AND ALL PREVIOUS PAYMENTS ARE NON-REFUNDABLE!
ALL YOUR PAYMENTS FOR ANY SERVICE AND EQUIPMENT IS NON-REFUNDABLE AFTER JULY 27, 2019 !
THERE WILL BE NO REFUND IF A MEMBER LEAVES A TRIP FOR ANY REASON EITHER VOLUNTARILY OR INVOLUNTARILY !
NO REFUND WILL BE MADE FOR ANY SERVICES OR PRODUCTS NOT UTILIZED INCLUDING BUT NOT LIMITED TO OXYGEN!
Additional information : info@extremesummitteam.com